Event » Samko Group Received Prima Wana Mitra Trophies for its Contribution to Sustainable Tree Planting

Monday, 28 November 2011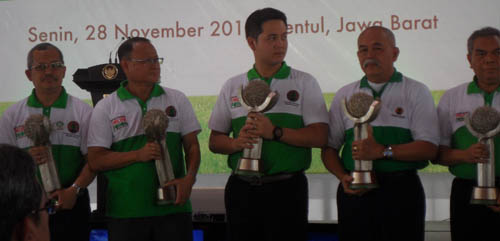 Bogor, November 28th, 2011 – In the light of Indonesia Plant Trees Day 2011 event on November 28th, 2011 and the National Month of Planting Trees set on the month of December, Samko Group received Prima Wana Mitra Trophies for its contribution to sustainable tree planting, seedling donation and assistance to farmer to plant the trees. Following the launch of the "One Billion Trees" movement, the Ministryof Forestry officially handed over the "Prima WanaMitra Trophies" for selected companieswith outstanding contribution to the program. At the event, 9 (nine) trophies out of 21 (twenty one) trophies were presented to the SamkoGroup.
Represented by Mr. Michael Sampoerna, Non-Executive Director and Mr. Aris Sunarko, Chief Executive Officer of Samko Timber Limited,Samko Group's subsidiaries respectively receiveda Platinum Trophy for PT Sumber Graha Sejahtera, 2 (two) Gold Trophies for each PT Sejahtera Usaha Bersama and PT Panca Usaha Palopo Plywood, 5 (five) Silver Trophies and a Bronze for some of its satellite plants that are located across Java, Sumatera and Sulawesi.
Since 2001, with the mission to improve local community's quality of life, Samko Group has succeeded in implementing partnership concept with the communities living around its plants. The partnership concept aimed at nurturingtree planting culture within the community has created work opportunities for the community, thus increasing their income and improving local economy. "In addition to ensuring raw material supply for our timber processing plant, we see that this partnership is a win-win solution between forest farmers, local government and the Company. We believe that sustainable performancecouldonly be achieved with community support," said Mr. Aris Sunarko. Until 2010, more than 33 million seeds have been granted by the Samko Group to the local communities.
Please click here for further information on Samko Timber Limited.