News & Event » Bait Al-Kamil and PT Buana Sakti held Jelajah Kurban Nusantara in the light of Eid Al-Adha 1433H

Monday, 29 October 2012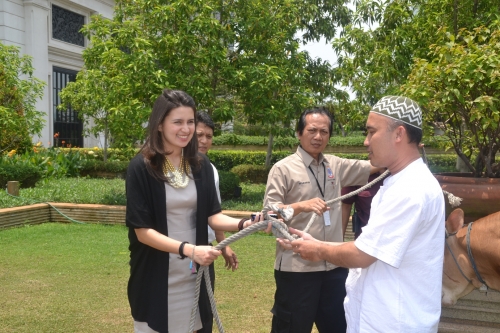 Jakarta, October 29, 2012 - Bait Al-Kamil, an initiative of the Sampoerna Foundation which engages in humanitarian assistance and disaster relief, worked together with PT Buana Sakti, the building management of Sampoerna Strategic Square, in organizing the "Jelajah Kurban Nusantara" program. "Jelajah Kurban Nusantara" is an annual program of Bait Al-Kamil and PT Buana Sakti, which has been held for two consecutive years since 2011.

"Jelajah Kurban Nusantara" was held to celebrate Eid al-Adha 1433 H and is a collaboration between donors, PT Buana Sakti and Bait Al-Kamil to distribute sacrificed animals to those in need. Donors can select their own distribution area in accordance to the list of Bait Al-Kamil's network of partners spread all over Indonesia. This program is held to spread the spirit of sacrifice and enrich the sense of caring for others.

This year, Bait Al-Kamil and PT Buana Sakti held the "Jelajah Kurban Nusantara" program to provide donors with easy and reliable services in distributing sacrificed animals. This program successfully raised 70 goats and 6 cows, which will be distributed up to NTT.

"We are very pleased that this event received very good response from the tenants. For that I would like to express my highest appreciation for your kindness and for sharing with others. Hopefully our sacrificed animals bring blessings not only for our brothers and sisters who are less fortunate, but also blessings to us all," said Muhaemin Toha, a representative from the building management of Sampoerna Strategic Square.

The handover of sacrificed animals was held on October 24, 2012 between Bait Al-Kamil and PT Buana Sakti in respect of transparency and accountability. The event held at Sampoerna Strategic Square was attended by officials from Karet Semanggi area and also individuals, corporate leader representatives and expatriates participated in the program. The handover was presented by Mrs. Ranie Roosendaal of PT OTP Geothermal Services Indonesia as donors' representative, who handed over one cow to Mr. Hasyim of the neighboring Hidayatullah Mosque.

"The meaning of sacrifice for Muslims is as evidence of devotion of a believer by way of sincerely donating some of the wealth that has been given. Any form of sacrifice, cows, buffaloes or goats, is directed to achieve His blessings. In addition, the sacrifice worship possesses universal humanity values ​​ and social dimensions which establishes the sensitivity and empathy towards the less fortunate people," said Indra Singawinata, Chairman of Bait Al-Kamil.

The handover ceremony was also enlivened by Ustad Bobby Herwibowo and handover of school equipment from PT Buana Sakti to children of Roudhoh Al-Aitam Islamic boarding school.
###
Further information on Sampoerna Strategic Square can be found at: www.sampoernastrategicsquare.com
For more information on Bait Al-Kamil, please visit: www.sampoernafoundation.org.