News » Sampoerna Strategic Group Officially Owns PT Bank Dipo Internasional

Tuesday, 10 May 2011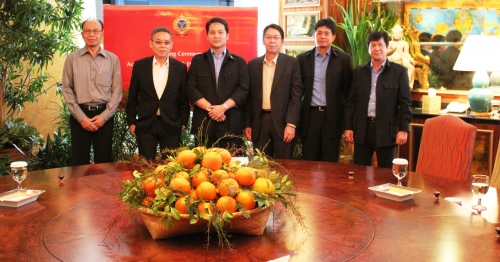 Jakarta, May 10th, 2011 - Sampoerna Strategic Group through PT Sampoerna Investama officially owns 85% (eighty five percent) share of PT Bank Dipo Internasional ("Bank Dipo"), which was marked by signing of the Acquisition Deed on Monday, May 9th, 2011. PT Pahalamas Sejahtera owns 15% (fifteen percent) share of Bank Dipo. The acquisition process has obtained formal approval from Bank Indonesia on April 13th, 2011.

Acquisition of Bank Dipo is part of Sampoerna Strategic Group's effort to contribute to Indonesia's bank restructuring program, especially in strengthening the bank's capital structure. "We expect with this acquisition, Bank Dipo can continue to be developed into a healthy bank, with strong capital structure to become one of the leading banks in the micro and small enterprise segment", said Michael Sampoerna, CEO of PT Sampoerna Strategic.
"Improving Good Corporate Governance implementation, support Bank Dipo management professionally and independently with respect to the precautionary principles, implementation of risk management and compliance with laws and regulations will be the benchmark of Bank Dipo's development, in addition to enriching the bank's business portfolio through micro and small enterprise segment. We expect to reach broader underprivileged communities in Indonesia with banking services and a sound banking system," said Indra W. Supriadi, Head of Sampoerna Microfinance, a business unit of PT Sampoerna Strategic.
"Bank Dipo development plan will be enriched by sharia service, which is currently being reviewed and studied carefully, given the similarities between the philosophy of micro and SME businesses with sharia business which prioritizes the principles of partnership and empowerment," added Indra.
Underprivileged community empowerment has always been a focus of Sampoerna Strategic Group, "Support from the stakeholders is essential in realizing Sampoerna Strategic Group's commitment to contribute in advancing national banking and the development of micro and SME sectors in Indonesia," added Michael S.
With the acquisition of Bank Dipo focusing its business in Micro, Small and Medium Enterprise segments, these aspirations are expected to be improved by providing financial access to un-banked community as well as empowering them to become a more successful entrepreneur.